Attention: Your browser is not supported.
Attention: Your browser is outdated, so this website may not display properly.
L60-OD Analogue / digital display
L60-OD Analogue / digital display
The L60-OD is an analogue/digital display for OUTDOOR use for roller brake testers up to 8 kN. It is designed for operators who prefer a combination of analogue and digital read-out.
---
Options supplied as standard!
---
Several combinations of equipment, peripherals and accessories can be connected to create a test lane for passenger cars and light commercial vehicles exactly adapted to the needs and possibilities in the workshop.
The L60-OD contains a large concentric 42 cm diameter scale for brake forces left and right. The red pointer represents the left wheel, the blue pointer represents the right wheel. The digital LED display is designed for a clear presentation of all numerical values in brake force, difference (imbalance), efficiency, weight.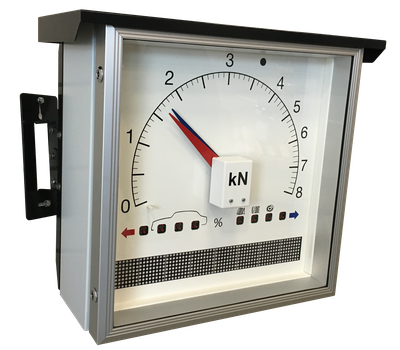 Standard

Full automatic test sequence.
Brake force indication left and right up to 8 kN.
Analogue and digital presentation of brake force left and right.
Digital presentation of brake force difference left to right.
Wheel lock indication lamps left and right.
4x4 reversible roller kit included.
Rolling resistance and ovality measurement.
Brake efficiency calculation for service- and parking brake after manual weight input or automatic weighing.
Memory for storage of all test results for front-, rear axle and parking brake with indicators.
Easy Exit® drive out of rollers.
Infra red remote control for operation of all functions of the roller brake tester.
Heating device to prevent condensation.
L60-OD

Dimensions

600 x 600 x 260 mm