Attention: Your browser is not supported.
Attention: Your browser is outdated, so this website may not display properly.
Combo® SR2000 / SR2010
Combo® SR2000 / SR2010
The SR2000 and SR2010 are Heavy duty versions of the Combo®; an effective combination of a roller brake tester, a weighing system and a hi-speed suspension tester for passenger cars, vans and light commercial vehicles. All in one chassis. It is the first tester of its kind on the market and has a unique price-performance ratio.
---
Compact chassis. Only 2.2 m²!
---
The operator drives onto the suspension tester plates, tests the front axle and drives into the rollers. Repeat this for the rear axle and the parking brake. Within two minutes testing time, the results will be visible on the display. Due to the integrated weighing system, the brake efficiencies (decelerations) of the vehicle will be calculated automatically and can be compared with legal requirements for the service- and parking brake.
The SR2000 contains leveled rollers. The SR2010 is equipped with raised rear rollers.
Add a sideslip meter to create a full test lane.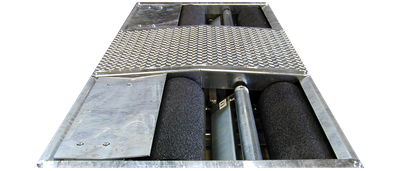 Advantages:

Compact tester.
High quality.
Reliable worm gear motors.
Hot dip zinc chassis.
High range.
No damaged tires.
Standard 4x4.
Easy positioning on suspension plates.
Faster than anything else.
Extensive analysis.
SR2000/SR2010 Specifications
Brakes

Maximum axle load

4000 kg

Roller dimensions

700 x 206 mm
Suspension

Measuring quantities

Adhesion & Damping

Measuring range

2000 kg/wheel weighing

Measuring range

1250 kg/wheel testing

Measuring plate

78 x 20 cm (WxL)
General

Dimensions

234 x 92 x 30 cm